The Italian theatre company Le Piccole Canaglie offers you a musical comedy "Notre Dame", based on the novel by Victor Hugo and prepared with enthusiasm by many students of European schools in Brussels.
The play will be in Italian with subtitles in French at Theatre 140 (Avenue Eugene Plasky 140, 1030 Brussels) on Saturday 15 December (matinee at 14:30, evening performance at 19:30) and Sunday 16 December (matinee at 15:00).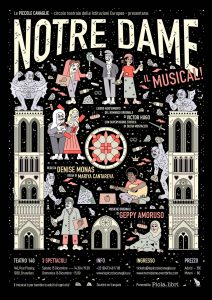 Seating will be assigned based on a first come, first served basis.
Tickets are available from La Piola or at the following link: https://bit.ly/2JGTPNO
More information: +32 (0) 473 48 17 08 or tickets@lepiccolecanaglie.eu