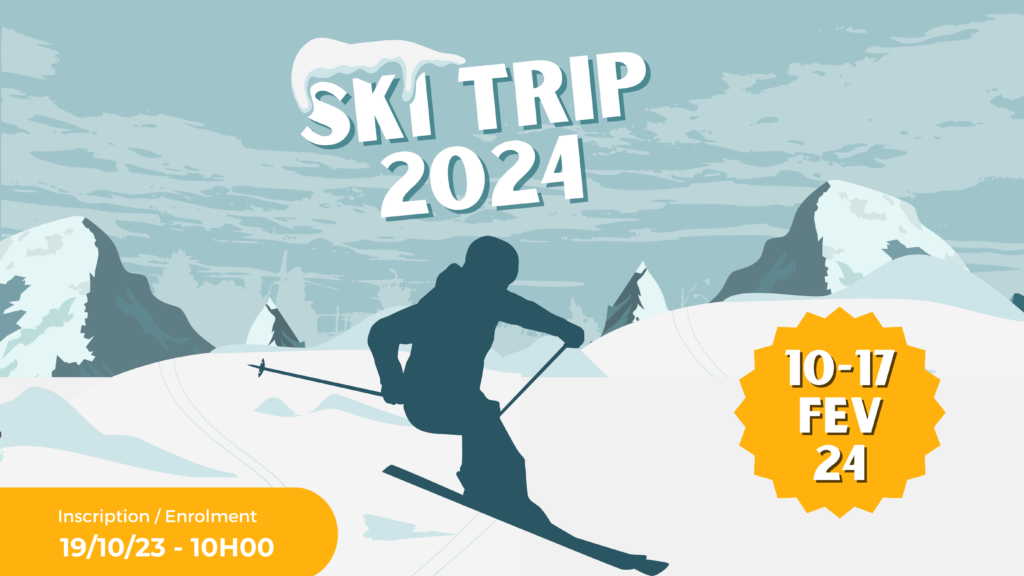 SOLD OUT !
We are happy to announce that our Ski Trip 2024 is getting ready for the students of the European School Brussels IV (Laeken).
From 10 to 17 February 2024, the Les Arcs ski station (in Savoie, France) will be the stage for an unforgettable experience. This holiday combines the fun of winter sports with learning, all in a spectacular natural environment. Find out all about the exciting details of this adventure below, and get ready for a week full of discoveries, emotions, and unforgettable memories.
Save the date: registration opens on Thursday 19 October 2023 at 10:00 am on our registration platform.
WHEN?
The trip will take place from Saturday 10 February to Saturday 17 February 2024, with the following details:
Departure on Saturday evening, February 10, with an expected arrival on Sunday morning.
Return on the morning of Saturday 17 February with an expected arrival on Saturday evening.
WHERE?
The destination of this trip is Les Arcs, in Savoie, with accommodation in the UCPA sports village.
FOR WHOM?
This trip is reserved for students in levels S4, S5, S6 and S7 at the European School Brussels IV (Laeken).
WHAT DOES IT COST?
The total cost of the trip is €1150 for members of the Parents' Association of the European School Brussels IV (APEEE). If you are not yet a member of the APEEE, an annual fee of €50 per family is required in addition to the cost of the trip. For more information on the membership fee, please click here.
THE PRICE INCLUDES:
Round-trip bus transport from the European School Brussels IV to Les Arcs (approximately 10 hours' journey).
A "Full-time" package including 10 skiing or snowboarding sessions.
A UCPA instructor for each group of 10 to 12 students, adapted to their level, from beginner to expert.
Accommodation in shared rooms (4 students) for 7 days and 6 nights, from Sunday to Saturday.
Full pension, from breakfast on Sunday to breakfast on Saturday.
Full supervision, including UCPA sports support (UCPA instructors) + BAFA supervision + 4 APEEE supervisors.
Ski pass valid for 5 days, Sunday to Friday.
Loan of ski/snowboard equipment for 5 days, including skis/snowboards, poles, boots and helmets.
Après-ski activities: evening activities with other young people from the centre.
Insurance and assistance in the event of accident, early return, repatriation, loss of luggage and group cancellation.
LES ARCS SKI STATION AND SKI AREA
The sports village of Les Arcs (UCPA) is located at an altitude of 1750 m, in the heart of the forest.
More than 100 ski runs to suit all levels of competence.
Up to 200 km of ski runs, served by more than 60 ski lifts.
A vertical drop of 2026 metres.
INTERESTED?
If you would like to register your child for this ski trip, please go to our registration site from 19 October 2023 at 10:00 am, in the "Extracurricular activities" section, and choose the option "Ski Trip". Registrations will be processed on a first-come, first-served basis.
You will then receive an automatic notification inviting you to make the payment for the trip to the extracurricular activities department's bank account. Please make this transfer within 10 working days of your registration, using structured communication only.
No payment reminder will be sent. After the deadline, places will be offered to people on the waiting list.
Only 56 students will have the opportunity to take part in this trip. Given the popularity of this trip in previous years, we will be setting up a waiting list (10 places).
If you have any questions, please do not hesitate to contact us by email at periscolaire@bru4.eu .