DO YOU LIKE SWIMMING? ARE YOU BETWEEN 5 AND 18 YEARS OLD?
WOULD YOU LIKE TO SWIM COMPETITIONS IN A LEAGUE WITH SWIMMERS OF ALL LEVELS AND OF MANY NATIONALITIES?
WOULD YOU LIKE TO BE PART OF A TEAM REPRESENTING ALL THE EUROPEAN SCHOOLS IN BRUSSELS?
Then join our team ESB OCTOPUS!
We are:
the swimming team of all European Schools in Brussels and with both a family and a competition spirit. There is place for everyone interested in swimming competition
member of the EFSL (European Forces Swimming League including NATO and US bases in Europe) and competing against 17 teams in several European countries
a pure competition team. You train within the European Schools périscolaire or in a Belgian club and you can compete with our team. There is no obligation to participate in all competitions
a team with excellent and professional coaches paying attention to the individual needs of the swimmers
a team with a long tradition of almost 40 years and where team spirit is very important, not only amongst the swimmers, but also amongst the parents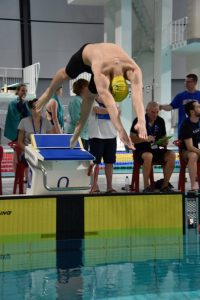 INTERESTED?
After a difficult season in 2020-2021, due to the restriction to fight the pandemic, we hope that the next season, 2021-2022, will become normal. Inscriptions are now open!
Please have a look at our website to understand how the team and the competitions work: https://www.esboctopus.info/
You can also talk to the ESB OCTOPUS swimmers at your school.
If you want to register, please send us an e-mail to: team.esb.octopus@gmail.com