Saturday, 21 April 2018, the extra-curricular service of the APEEE IV has celebrated its Performing Arts Day with the presence of the children and their parents.
More than 500 people came to the European school to attend this annual event where more than 30 extracurricular activities were performing.
The day started at 10.30 with various musical concerts taking place in the Reception Hall (piano, drums and guitar) but also with theatrical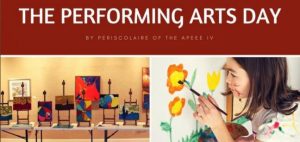 performances.
Several sports challenges have also been set up such a the mini gym's course for kindergarten children and also soccer and badminton's tournament.
A lot of surprises have been prepared in order to entertain the children. They were able to enjoy the good weather while having their faces painted by one of our monitor.
A day we are not ready to forget.
We are looking forward to the next edition !