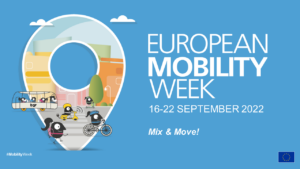 The European Mobility Week will take place from Friday 16 September to Thursday 22 September 2022!
This annual campaign aims to raise awareness of the use of public transport, cycling, walking and car-pooling in order to encourage European cities to promote these modes of transport and to invest in the necessary infrastructure. The annual theme for 2022 is "Better Connections".
EEBIV and the APEEE have decided to participate in the European Commission's flagship awareness-raising campaign to raise awareness of sustainable urban mobility and to encourage their members to adopt clean and intelligent transport solutions.
For this first participation, several activities have been organised. All details can be found on the school's website: https://eeb4.be/blog/2022/08/18/green-news-mobility/
Friday 16 September, between 07:40 and 08:10: Any cyclist or scooterist coming with their own bike or their own kick scooter (trottinette) will be handed a token to be used in the canteen where they will receive breakfast, provided that they registered in advance here: https://forms.office.com/r/fcHw9irK1h
This operation is conducted jointly with the school. Supervisors will be present in the canteen to supervise primary pupils.