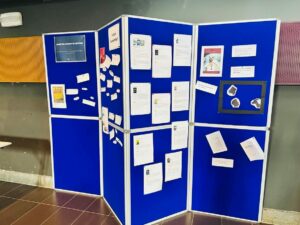 This year, 9 students from S1 to S3 are meeting every week as part of the "Book Club" activity during their lunch break to discuss the books they liked.
This small but enthusiastic group had the opportunity to take part in Book Week, organized at school from March 27 to 31. The students were able to present their work done with their teacher Claire. Some students have even participated in the reading-aloud contest before a panel of judges.
The book club program is dynamic and varied: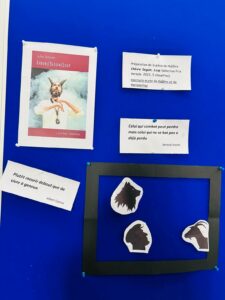 Presentations of books by the students themselves based on their reading
Presentations of book selections ranging from classics to the most recent books, in French, sometimes in English, from various genres (novels, detective stories, fantasy, comics, Manga, documentaries, theater…) around themes chosen by the students. This year's program includes: the sea, paintings, insects, the Middle Ages, Egyptian mythology…
Writing of reviews that will be compiled at the end of the year in a small collection
Reading aloud and recording of Alfonse Daudet's tale "La chèvre de Monsieur Seguin" (in English and French) which will be distributed to primary school students
Creation of a show mixing theater and puppetry of the play Chèvre, Seguin, Loup, by Julie Annen (selected for the Prix Versele 2023)
This year a few books have been read by several students and some have been unanimously approved:
Teen novel category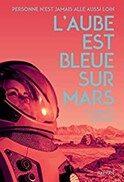 L'aube est bleue sur Mars, by Florence Hinckel (Nathan, 2022): an SF novel that mixes current themes: ecology, pan,demia, space conquest, love, friendship…. Featuring a heroine we'd all like to have as our best friend.
"My favorite part is the connection with our current life." – Sahdbh

"A great book, where a lot of themes are tackled, but without being too much and with action: I didn't see the 512 pages go by! As this novel is written in the first person, we immediately become attached to the heroine. Her family history is overwhelming and the part in the closed-door during the trip to Mars really keeps us in suspense. In short, a must read!"  – Anna
Comic book category

Un océan d'amour, by Wilfrid Lupano and Grégory Panaccione (Delcourt / October 2014): a comic book without text featuring an explosive couple.
"I really liked this comic because I found the story very cute. I loved the drawings and the story is very understandable even though there is no text.  The story is very funny but also deals with many serious issues: ecology, overfishing, ocean pollution and love.  The characters – an old fisherman and an old Breton woman – are adorable and very touching." – Criticus anonymus
Category Junior Novel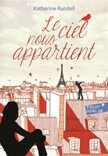 Rooftoppers, by Katherine Rundell (2013): an adventure novel about the rooftops of Paris.
"I think Rooftoppers is a good book because it shows how determined you can be that you actually go to a different continent to find it. I also liked the adventure and how they had to stay in secret, it made me reflect on how sad life can be but then after, you can always regain happiness. Overall, I thought this book was an excellent mix of adventure and determination." – Paz
If you are interested in joining this activity, feel free to register!
Discover the complete program and click on " Register your child  >