ESB Octopus wins 20 medals at the Short Distance Champs 2022, including one gold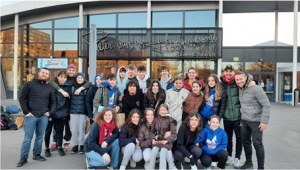 The Short Distance finals of the European Forces Swimming League (EFSL) were held in Eindhoven on 26-27 February, with 21 ESB swimmers qualified. ESB Octopus obtained 21 medals, including a gold (Javier Montoro, EEB1, at 200 freestyle boys, 17-19).
ESB Octopus is the swimming team of the four European Schools of Brussels.
Congratulations to the medalists: Javier Montoro (EEB1, 4 medals), Iván Salgado (EEB1, 3 medals), Ioana Vasilescu (EEB2, 3 medals), Samuel and Benjamin Coles (American School of Brussels, 4 and 2 medals), Aleksander Janaszczyk (EEB1, one medal), Iskender Patel-Pimentel (EEB2, one medal), and the relays 200 medley (Ioana, Lisa, Iskender, Marek) and 200 free (Alexia, Ioana, Samuel, Iskender). Congratulations also to the other qualifiers.
To know more about the ESB Octopus, or even to join the team, please look at their website (www.esboctopus.info) or contact them at: team.esb.octopus@gmail.com