On 29th November, the whole of the Anglophone primary section (as well as P5 Language 2 students) were invited to a performance by the English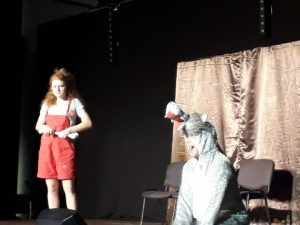 Theatre Company, returning for their second year in what we will hope will become a regular feature of the Primary calendar. 
They performed "Passing Tales", a wonderful synthesis and re-telling of fairy tales from English literature.
"Passing Tales" is a play about the adventures of a young girl called Jo. Jo lives with her father ‐ who is a wizard ‐ in a little house in the Kingdom of the three and a half mountains.
The play started with Jo and her father reading a bedtime story. This particular book was different: it was magical. Jo kept hearing background music whilst her father read it to her, and the story seemed to be very similar to her own life- a bit too similar! Somehow, the book and Jo's life magically merged as she met different characters from different stories.
We met a Prince who grew more and more vain and self-centred; and Ozzy, the wizard villain who decided to imprison the prince inside a little box. Jo later received the box as a gift and was surprised to find her old friend inside!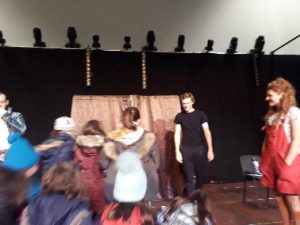 The rest of the story followed Jo's attempts to release her old friend and to bring him back to his real size. She was helped, and hindered, by a variety of characters including an ice -cream seller who gave her a magical word; Luigi, an Italian chef who tried to turn her into a pizza; a panda who rescued her from the oven; 2 confusing ugly sisters; and a fastidious palace guard who insisted on Jo having the correct password.
Performed by only three madcap actors, who each played multiple roles, with fast costume and set-changes, great audience interaction and songs, all the pupils (and adults!) enjoyed the play hugely and the performers were impressed by their energy and impeccable manners.
The performance was funded by the School Community Fund, who kindly agreed to support the project once more.
We hope that the pupils at EEB4 will be able to enjoy future performances for year to come!