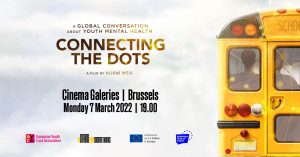 EYCA (European Youth Card Association) will be screening the film 'Connecting the Dots', which covers the global issue of mental health faced by young people.
It will be held on Monday 7 March from 19.00-21.00 at Cinéma Galeries in the centre of Brussels.
This one-hour film will be followed by a 30-minute interaction with the panelists and the audience. The event will close with a networking/thank you drink.
To register for the event, please fill in this form: https://forms.gle/JrEMJkV4EvBU3vV68
For more information, do have a look at the event description: on Facebook, on LinkedIn & on the CoFoE platform.
The event is free.
This event is part of the campaign #StandForSomething, an initiative to engage young people to voice their priorities for the Conference on the Future of Europe and the European Year of Youth.

Over the course of this campaign, addressing mental health has emerged as a top priority.