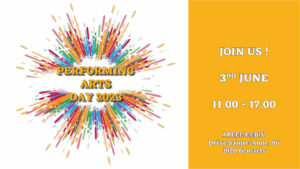 Performing Arts Day is taking place on Saturday 3 June!
Performing Arts Day is an opportunity for parents to come and see what their children have been up to during the year and for everyone to find out what activities they can sign up for the next school year.
You'll need a ticket to attend. Please register on our online ticketing service from now on.
Note: Participation is free but registration is required.
The event will take place from 11:00 AM to 5:00 PM pm in the European School Brussels IV. You can find the full program on our website: Click here
We look forward to seeing you there!