At the request of the school management, the APEEE Prevention Group financed and brought in a DVD from the USA, "Screenagers", a documentary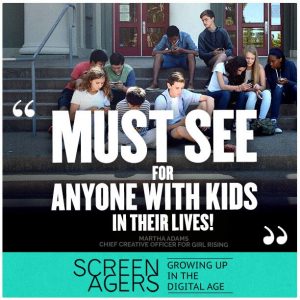 directed by Delaney Ruston, on video games and social networks, with a scientific, sociological approach and with many interviews.
The screening organized for parents at the Charlemagne Building on May 17 met great success with around 150 people attending. Parents were then able to ask questions to Ms. Moreno, the school psychologist and Ms. Carly, the school nurse. 
At the request of many parents, the school organised an additional evening screening for parents, S5, S6 and S7 students, who could not have a projection on school time.
S2, S3 and some S5 students had the opportunity to watch the movie, followed by a question and answer session with the school psychologists.
In the meantime, a group of parents is discussing the use of computers at school and its impact on home use. How to use this essential tool without multiplying the hours spent in front of a screen?