We are a little over a month away from celebrating our school party.
Please find hereafter crucial info on Somerfesto that will be held on the 6th of May.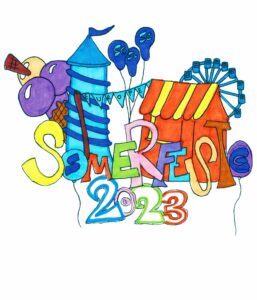 First of all, the Somerfesto Committee would like to thank all the participants for sending their designs. We received no less than 82 logos and the choice was difficult.
The winning logo is the one of Giuseppe, in S2 IT! Discover the official logo of Somerfesto 2023 by clicking here >
Thank you, Giuseppe, for this great proposal that was chosen by the Committee and congratulations!
You can discover all the students' submitted logos (sent on time and belated ones) by watching this video: https://bit.ly/3TRj8kh
Congratulations again to all of you!
Because the « Visites des Serres Royales de Laeken » will continue until the 7th of May, it is advised to reach the school via public transport. Access to the school parking will not be possible.
Pre-subscription & Kupono sale
Any member of your family wishing to participate in the Somerfesto must register in advance (one individual ticket as to be created per person) and have a QR code to present on the day.
The registration is free but therefore mandatory to be able to access the school on May 6.
Somerfesto will begin at 12pm and end at 5pm.
To register and get your QR code, please click on the following link:
https://www.eventbrite.com/e/eebiv-somerfesto-2023-tickets-601372831327
On the day of Somerfesto, please bring your ID/passport or EEBIV badge and the QR code that will have been issued to you electronically by Eventbrite (to be presented on your smartphone or in print).
Please avoid bringing backpacks.
Kupono sales
We will not be accepting cash on any stand/activity. All activities and products require either a bracelet or Kupono (tickets: €1,00 and €2,00).
Please follow this link to pre-buy your Bracelets for activities and Kuponos (tickets) for the day online via the APEEE App: 
Bracelets and tickets will also be available on the day at full price. We will be accepting electronic payments and cash on site to purchase them.
To make Somerfesto a success, we need all the help we can get!
Please register to volunteer for the various activities/attractions by completing the following form:
https://ec.europa.eu/eusurvey/runner/somerfestoschedule.
Students in P3 and above may also volunteer with a parent.
Students from S1 onwards can volunteer unaccompanied.
Please note that so far we only have 74 parents/students/teachers who have volunteered. It's obvious that for such a party, it's not enough.
Bouncy castles are the attractions that need the most volunteers otherwise the Committee will be forced to deflate them.
As a reminder, each language section can organize a food stand, but without a coordinator, there is no stand. For contact information on the existing food stands, please follow this link: https://bit.ly/3ZtQoPF
We look forward to seeing you on May 6th,
The Somerfesto Committee