Second Hand Book Sale – SECONDARY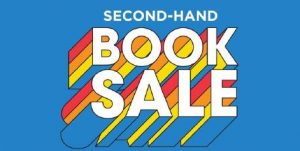 Sell or buy old textbooks and give them a second life!

Teams of parents from the different language sections are organising a second-hand textbook sale for the Secondary classes. This is an opportunity for students to sell used textbooks and to buy those needed for the coming school year.
WHEN: Monday 9 September (8:00 – 13:00) Tuesday 10 September (8:00 – 13:00)
WHERE: Building A, Room A.002.
The sale is open to students and parents. If you're a parent or guardian and wish to come to the sale, please sign up via this link before the 06th of September 2019 at 16:00.
WHAT: Textbooks in good condition will be sold. No used workbooks.
Check that the books to be sold are required in S1-S7 for the school year 2019-2020. Confirm the book has the same ISBN code as is shown on the book lists (new list to be published on the school website very soon).
PRICES: Books are sold at 50% of the Amazon price + 1€. All books are sold at the same price regardless of their condition.
SELLING: Parents or students bring their books to the sales room on the first day. A voucher (see below) must be filled out completely in BLOCK LETTERS and placed in the front of every book (please use tape to avoid the vouchers getting lost!). Book prices will be filled in by our volunteers. After the sale, you will receive a bank transfer payment for all your sold books, provided that your name and bank account number are clearly stated on the voucher! No exceptions!
BUYING: Only cash accepted. Please bring small bills and change.
VOLUNTEERS: We are always in need of additional help. Contact your section organiser (see below) if you have a few hours to give. Without support from our community, this sale cannot be a success.

EN: Kirsten Maher (englishsectionreplaeken@yahoo.com)
FR: Veronica Gavriliadis (v.gavriliadis@gmail.com)
NL: Kris van Neyghem (krisbxl@hotmail.com)
DE: sektionDE.EEB4@outlook.com
IT: it-eeb4-pedagogical@googlegroups.com
Unsold books can be collected by their owners on the last day of the sale before 13:00. No exceptions. The additional 1€ for each book sold will be donated to our school's Community Fund.
Regards,
The Book Sale Committee
Note: The book sale generates no profit and the parents only act as volunteers and receive no wages. Neither the school nor those involved in the sale are responsible for any books damaged, lost or stolen. This service is provided by parent volunteers, separate from the APEEE.