ESB Octopus, the European Schools swimming team, obtains 41 medals,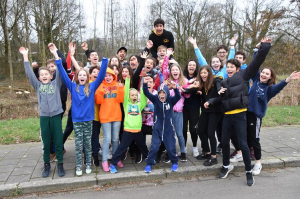 including 3 golds, at the short distance swimming finals in Eindhoven (29 February -1 March 2020)

On the week-end of 29 February to 1st of March, just before the lockdown, 29 swimmers representing the different European Schools of Brussels participated to the short distance Champs of the European Forces Swimming League (EFSL). Our team, ESB Octopus, obtained 41 medals, including three golds.

Congratulations to the medalists:
– Alexia Salgado (3 medals), Lisa Di Stefano (1 medal) and Inès Mazzola (1 medal), from the European School of Uccle.
– Jonas Eversonas (7 medals), Paulius Eversonas (1 medal) and Iskender Patel-Pimentel (7 medals, including two golds), from the European School of Woluwe.
– Jules Pellier (5 medals, including one gold), Rodrigo Alquézar Pomar (4 medals) from Ixelles.
– Aura Ortega Claici (7 medals) from Laeken.
– Sven Woersdoerfer (2 medals), ex-Uccle.
– And three medals in relays (Georgios Stavropoulos, Lisa, Iskender and Ioana Vasilescu; Jules, Inès, Aura and Sven – with two medals).
ESB Octopus is the swimming team of the five European Schools of Brussels. It is open to all pupils and students since the age of 5, with a minimal level for being involved in competitive swimming.

Interested?  JOIN THE TEAM NOW!
Registration and info : team.esb.octopus@gmail.com