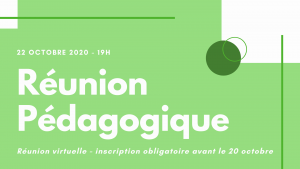 As announced in the President's back-to-school report, the APEEE Board and the pedagogical team are organising a meeting Thursday 22 October, at 7pm, on Webex.
The meeting will start at 7pm with the presentation of the pedagogical working group and the new section representatives. From 19:30 onwards, the following guests will be joining the meeting :  
Mr Bordoy, Director
Ms Verwilghen, Deputy Director, Secondary cycle
Mr McGrath, Deputy Director, Nursery and Primary cycles
Mr Segers, Deputy Director, Finance and Administration
Moreau, Head educational advisor 
Mme Viima, Assistant Deputy Director, Nursery and Primary cycles
Please register by clicking on the link below before October 20, otherwise you will not be sent the link to join the meeting: https://bit.ly/35g7zKN
We all look forward to seeing you there.
The Pedagogical team and Board from the APEEE BRU IV
pedagogie@bru4.eu